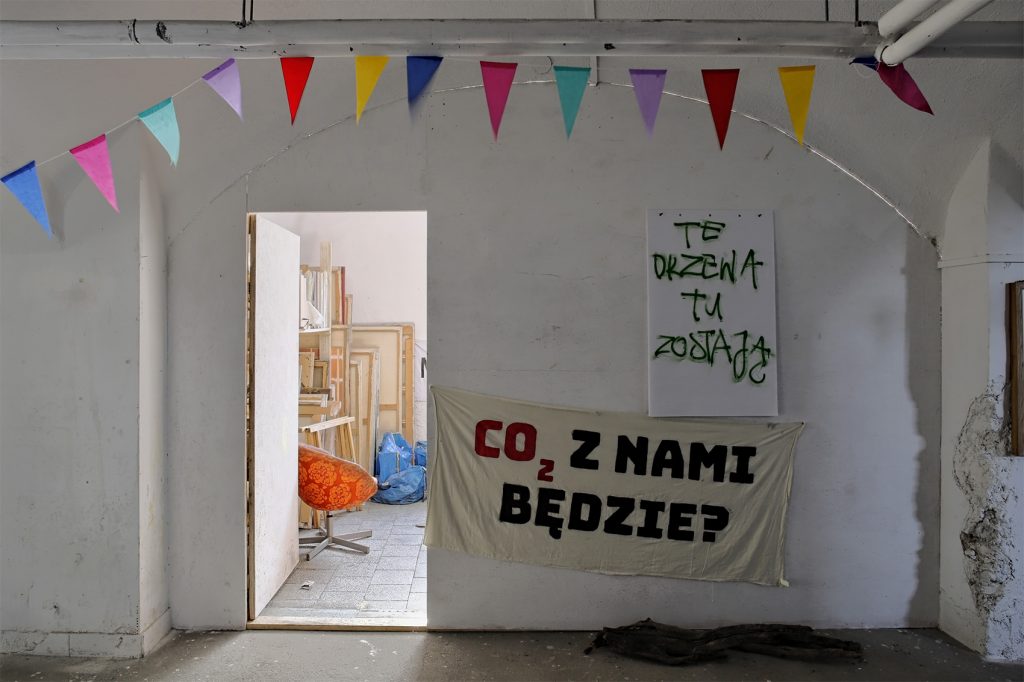 Cecylia Malik's studio
Anna Stankiewicz
Małopolski Instytut Kultury w Krakowie
Cecylia Malik interviewed by Agnieszka Jankowska-Marzec. A.J.M: What does (...)
Cecylia Malik interviewed by Agnieszka Jankowska-Marzec.
A.J.M: What does an artist like you – a performer, social activist, working mostly in the field – need a studio for?
C.M: First, if we are starting with activism, I often organise large happenings that look beautiful. For example, The River Sisters – everyone has a board with the name of the river (you need to cut it out from plywood, around 40 x 60 cm, I now have around 150 such boards and every now and then we take them to happenings). Or the Modraszek Kolektyw with all the participants wearing the wings of the common blue butterflies – a month ago we cut out around 200 pairs of wings from cardboard boxes and painted them. Then the protest against the logging in the Puszcza Białowieska primaeval woods – together we painted 200 cardboard Mandalas: circles of 1.5 m in diameter. You need a place to prepare them all, and then to store them. Whether you paint a painting or a banner, you need some space. For a year now our CSW Wiewiórka Association has had its home at the Skład Solny – an 18th century building that was a warehouse for salt situated in Bohaterów Getta Square and is now managed by the Municipal Buildings Authority. Currently it is rented by artists as creative studios, and by musical bands as rehearsal rooms. We have plenty of space there and we use part of it as our studio (with Bartolomeo Koczenasz) and the other part as a common space, where we can run workshops and use the space to prepare actions. As an artist, regardless of whether I am painting a painting or working on a protest, I need space for creative work, and I try to do something valuable and beautiful, the difference being that when I am painting a painting I work alone, and when we're organising a happening I collaborate with a group of people.
A.J.M: The studio we are in now is your another place where you work…
C.M: My previous studio was in a small townhouse in ul. Lwowska. It was earmarked for demolition (just like the Skład Solny is currently), and the flat was made available to us by a developer we know. He had his office on the ground floor and his company designed and built blocks in the vicinity. I shared my studio with Paulina Karpowicz and Piotr Szczur, but I only worked there for a couple of months, from March to September 2016. In September I had Ignaś and, actually with a child at my breast, I carried out the Matki Polki na wyrębie / Polish Mothers at the Felling project that "didn't need" a studio. Earlier, in 2014–16, I had a studio in the Telpod building in the Zabłocie district. The building is no longer there. Its spaces were rented by a lot of artists, when for a short time the district was home to artists and artisans before it was gentrified and turned into a district of apartment blocks. There I also shared a small room, just 20 m², with Paulina Karpowicz. In this way, we could afford to rent a studio. Both the places were cold in winter and hot in summer, with a toilet and water in the corridor. At the time my work as a painter (from time to time) was separated from that of an activist artist. From 2015 to 2018, the base and back office for the preparation of actions and above all the Water Critical Masses was a villa in Dębniki, where friends, including Bartolomeo Koczenasz, rented a large flat. He provided the space for the Water Critical Mass that we organised together with Piotr Dziurdzia, Jakub Wesołowski, Gocha Nieciecka, and Martyna Niedośpiał. The garden was the space of our "shipyard" and the cellar was our storeroom. Space for working with people was sometimes provided by the Ogniwo Cooperative and by Bunkier Sztuki when Piotr Cypryański was the director of that institution. The lack of appropriate space to work in resulted in the separation of my two activities – the happenings/activist events and the painting. And I didn't like that very much. For although I paint quite rarely, I very much need that time of focus and solitude. I once had a studio in the woodlands by the Vistula River in Kraków for several months. I painted large canvases of 130 x 130 cm, propping them up on a willow tree trunk and wrapping them up in plastic for the night and leaving them there. I even organised the opening night in the woods. But it was great to take the paintings to a studio, and to finish them in warmth and peace. Painting also gives me the time to invent the next projects and actions. A year ago I painted a cycle of small studies of water over the Rudawa, by my home. Studying the light reflecting on the dancing water I had the idea for the Fashion for Rivers action, or a collection of recycled bathing suits, hand-embroidered with slogans actively defending the rivers. The workshops have been running for two months now, during which ­– with around 40 people participating – we have embroidered around 140 bathing suits in our new studio in Skład Solny.
A.J.M: You seem to have shared all your studios, including the current one in Skład Solny. Is it an easy or difficult experience? For many artists claim that they can only work creatively when they are alone.
C.M: Well, you sometimes need a moment's solitude, but I often have this moment on the way, in the forest, in the open. When I am looking for motifs for my paintings, when I sketch or invent them, it's hard to invent things with somebody around, true. But when I share a studio with someone it's never that we are together non-stop. Rather, there are moments of solitude and moments of being together, and this is very pleasant, to share a cigarette with someone, or to have coffee during a break. Well, and the other person also mobilises you to work.