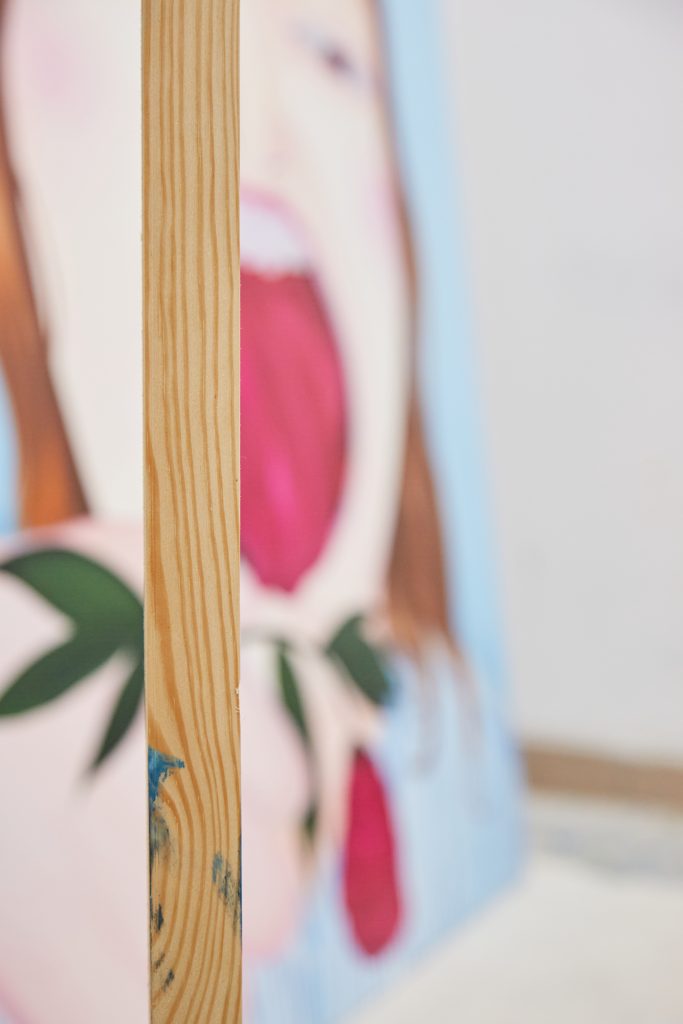 Karolina Jabłońska's studio
Anna Stankiewicz
Małopolski Instytut Kultury w Krakowie
Karolina Jabłońska interviewed by Agnieszka Jankowska-Marzec A.J.M.: Organisation of (...)
Karolina Jabłońska interviewed by Agnieszka Jankowska-Marzec
A.J.M.: Organisation of a "friendly" and comfortable space to work is important for every artist. When did you first manage to carve out your own corner for work?
K.J.: Quite early, when I was a third-year student I sublet a room in Łukasz Stokłosa's flat, which doubled as his studio. It was a cool experience, lasting perhaps a year, to paint in the same place as Łukasz, whose work I greatly appreciate. Even though as we operated in a single flat we didn't disturb each other, and I actually had the feeling that I was working there on my own. Then I left for an Erasmus exchange, and when I returned the Telpod era began.
A.J.M.: You mean the building that used to house the Unitra-Telpod Kraków Electronic Works in the Zabłocie district (until 2002).
K.J.: Precisely. My studio was a small room, approximately 11m², on the sixth floor. When it became evident that Telpod in its current form was doomed (I mean the huge post-industrial building rented mostly by small companies, artisan production, and artists), various space swaps and exchanges became possible. Many people, myself included, moved to larger spaces that we could rent at fairly low prices. So I moved to a far larger studio on the sixth floor. That was the best space I've ever had at my disposal to work in.
A.J.M.: What made it special?
K.J.: A magnificent view of Wawel Hill and the whole city; the opportunity to admire those slightly "kitschy" sunsets, but that obviously was not the most important thing. Low rent. A square space that was easy to arrange, which is handy when you are preparing your canvas, and offers the opportunity of moving away from the painting while you are working on it and sufficient space for packing your canvas for exhibitions. Moreover, the studio had a separate locker where I could store finished works so that they didn't gather dust, and a "food corner". It was warm (municipal heating) and light (one wall was made of just glass). Just perfect.
A.J.M.: You've also mentioned the exceptional atmosphere…
K.J.: Yes, perhaps I could call it the atmosphere of work. My friends – painters – had their studios in the same building. I could meet them any time, have a coffee, talk, and "gear myself up" in a way for further action. I also appreciated that the people around me were coming to their businesses or places of work, and that this is a place where you simply work. When Telpod closed, that is, a developer transformed it into a student hall of residence and forced us to leave, I started looking for a new studio together with Tomek Kręcicki and Cyryl Polaczek. We managed to organise studios (each in a separate room) in a flat on ul. Rakowicka. The place was good for that time, and triggers plenty of interesting memories. Other than our studio, we also ran the Potencja Gallery there. Nevertheless, my studio was rather narrow and there was not enough space for me. Moreover, at the start of our time on ul. Rakowicka we had a fire that started in my studio. Luckily no major losses were incurred. There were spray cans on my desk and the heat made them explode, waking up the neighbours (it all happened in the middle of the night.) Thanks to a quick intervention by firefighters, the situation was brought under control. However, it was a traumatic experience for me. Often, on returning home from the studio, as I went to bed I began to worry whether everything was switched off. (After the fire we would disconnect the fuses every day before leaving the studio.) And I would return to check whether everything was really switched off. In the back of my head there was also that thought that our presence in the flat could be a burden for the neighbours (the smell of turpentine), so I began to look for another location. First, I found a smallish flat on ul. Dunajewskiego. The size was ideal, but it was on the second floor of a tenement house and there was no heating, so I decided to look for something else. Tomek Kręcicki rented the place on ul. Dunajewskiego instead.
A.J.M.: The studio we are in is heated but it is situated in a cellar and doesn't have any views, but it must have its advantages.
K.J.: An advantage is the fact that it is situated close to my home, so I don't lose time in commuting. Secondly, since we adopted a dog, Jola, it is important for me that I can take her for a walk during the day.